11/15/2022
ATLANTA – Appling Healthcare Patient Account Coordinator Mary Herrington was awarded the prestigious Georgia Hospital Heroes Lifetime Achievement Award at the Georgia Hospital Association's (GHA) Hospital Hero Awards celebration on Nov. 11. Herrington, who was the only healthcare worker statewide to receive the award, was recognized for her longtime dedication to the healthcare field, with more than 50 years of service to Appling Healthcare and the community.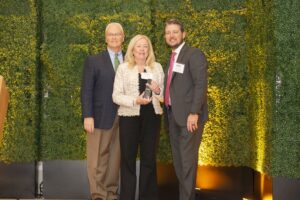 Mary began working in the hospital's business office back in 1971 and has worked in various departments ever since, including E.R. admissions, administration, and the Pavilion nursing home. Mary's roles have ranged from billing and payroll to accounts payable and receivables. She currently divides her time between the Pavilion's admissions and finance office and the hospital accounting office.
"Mary is dedicated to her job and truly wants the best for Appling Healthcare," said Kim Jowers, Pavilion Administrator. "She is dependable and will go the extra mile to help others. She genuinely loves the staff, residents and their family members and will do anything to help them. Mary is an important part of our organization and we are blessed to have her."
Mary is described by anyone who knows her as a truly genuine and positive person who will always pitch in or lend a helping hand. "I love meeting and being around the people of my community and helping any way I can," said Mary. "I try my best to help everybody I can from throughout our community. At the Pavilion, I work with our residents and families starting from admissions all the way through discharge, so I get close to them and develop a close bond. It means even more to me because I'm from Baxley and this is our local nursing home. I have also had the privilege of working for and with some wonderful people over the years and still today."
"With Mary's steadfast dedication to Appling's patients and her constant willingness to help wherever she is needed, it is easy to see why she is so deserving of this award," said GHA President and CEO Earl Rogers. "She's made a powerful impact, and we thank her for her commitment to patient care."
According to Mary, she is often asked when she plans to retire and relax. "Everybody says I'll know when it's time," she said. "I guess it's not time because I just don't think I'm ready. I'm still enjoying it too much."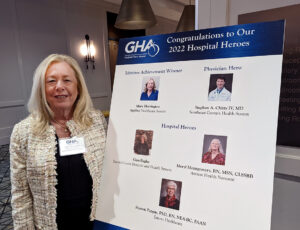 About GHA
Founded in 1929, GHA serves nearly 150 hospitals in Georgia and promotes the health and welfare of the public through the development of better hospital care for all Georgia's citizens. The mission of GHA is to advance the health of individuals and communities by serving as the leading advocate for all Georgia hospitals and health care systems. GHA represents its members before the General Assembly and Congress, as well as state and federal regulatory agencies, and is an allied member of the American Hospital Association. For more information, please call 770-249-4500 or visit gha.org.