Groundbreaking Treatment for Metabolic Failure Including Diabetes
"I haven't felt this good in years. It's like my neuropathy just disappeared and my energy levels have increased." — Wayne K. (Type 2 Diabetic – 18 years, Neuropathy – 10 years)
"It's almost a miracle that my foot healed so well. I started treatment and within three weeks it had healed. The wound had been there for three months prior to treatment." — Greg B. (Diabetic – 10 years, Hypertension – 5 years, Neuropathy – 8 years)
"My blood surgar is now controlled and my eyesight has improved so much I went from legally blind without glasses to now being able to read the captions on the TV with no glasses, and I'm down from six vials of insulin per month to only three." — Bruce B. (Type 2 Diabetic – 27 years)
Symptom Suppression Is Not The Answer; Start Addressing The Primary Cause
Appling Healthcare has partnered with RestorMetabolix and is now offering a groundbreaking treatment for metabolic failure including diabetes (type 1, type 2 and pre-diabetes). Physiologic Insulin Resensitization is a groundbreaking multi-patented approach where insulin is administered as a hormone rather than a drug, addressing the primary cause of diabetes, being metabolic failure. By using insulin in a manner that bio-mimics normal physiology, we are better able to reduce insulin resistance, which helps blood sugar more readily enter each cell and be converted into energy. Increasing cellular energy allows damaged tissues and organs to grow, repair, and regenerate. In many cases, this approach has shown the ability to stabilize, and in some instances reverse, complications of diabetes and other metabolic disorders.
Patients Report:
Neuropathy diminished
Energy restored
Weight controlled
Erectile function restored
Retinopathy diminished
Amputations prevented
Medications reduced
Blood sugar controlled
Mood and Sleep Improved
Wounds healed
Hair and nail growth
Blood pressure reduced
Dementia mitigated
Alzheimer's alleviated
Stroke recovery accelerated
Fatty liver reduced

Typical Care Plan
RestorMetbolix Medical Director at Appling Healthcare is internal medicine physician Michael Moss, MD. Patients work with a specialized team at Appling Healthcare, which includes Dr. Moss, Rachel Peterson Moss, AGNP-C,  Lyrissa Smoak, RN, and Bonnie Poblete, RN.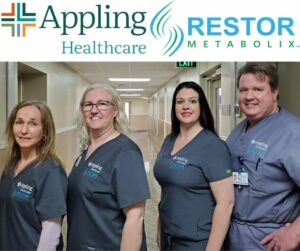 Every patient's degree of insulin resistance and ability to metabolize carbohydrates is unique, so we begin with a consultation to determine medical necessity and establish a physician-directed individualized care plan. The patient's unique care plan typically includes an "Induction Phase" of weekly infusions, which is reduced as improvements are realized, for approximately 90 days. Next, the "Maintenance Phase" finds the balance between developing an optimized metabolism and maximizing the time between treatments.
Visits typically start with three hours, and patients are free to move around during the process (read, work, watch TV, etc). As patients improve, time between visits is extended while visit duration is reduced. A two-hour visit about every four to six weeks is common.
Do you take my insurance?
Most insurance plans are accepted to maximize your benefits. If your plan is out of network, our insurance advisors will help determine coverage for the services you need.
No insurance? Ask about cash plans and patient financing. We'd love to help!
What's the first step?
Come in for a consultation so we can begin your personal medical review to determine medical necessity and whether you qualify.
What should I expect from the consultation?
Typical consultations take 30 to 60 minutes. You may be asked to come prepared for blood work if your latest blood work is not up to date. You will meet with a qualified medical staff member who will review your records, medical history, physical condition, and the groundbreaking process. We'll answer any questions you may have. This consultation is very important in creating your customized care plan if you qualify.
Will you work with my doctor?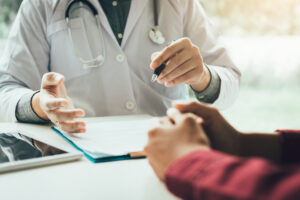 We will not replace your doctor, nor do we require a referral or approval from your doctor. We prefer to work with your doctor to co-manage your individualized care plan including treatment, testing, and clinical results.
Most doctors use insulin as a drug, but this process uses insulin as a hormone. Doctor information packets are available upon request, and we are happy to consult with your doctor if needed.
To schedule a consultation with Dr. Moss and find out more about RestorMetabolix infusion treatments, call (912)705-4900.