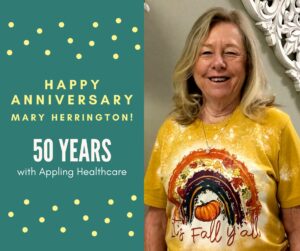 11/10/2021 Please join us in wishing Mary Herrington a Happy Anniversary! She's been working with Appling Healthcare for 50 YEARS and, fortunately for us, she's not retiring anytime soon!
Mary works in the admissions and finance office at our Nursing and Rehabilitation Pavilion. She began working in the hospital's business office back in 1971 and has worked in various departments ever since, including E.R. admissions, administration, and the Pavilion. Mary's roles have ranged from billing and payroll to accounts payable and receivables.
"I love meeting and being around the people of my community and helping any way I can," she says. "Everybody asks me why I'm still here. All I can say is I try my best to help everybody I can from throughout our community. At the Pavilion, I work with our residents and families starting from admissions all the way through discharge, so I get close to them and develop a close bond. It means even more to me because I'm from Baxley and this is our local nursing home. I have also had the privilege of working for and with some wonderful people over the years and still today."
Mary just celebrated 47 years of marriage to husband Tony Herrington. The couple has three sons and 10 grandchildren.
We look forward to many more years with Mary on our team at Appling Healthcare!
"Everybody says I'll know when it's time for me to retire, so I guess it's not time because I just don't think I'm ready," she says. "I'm still enjoying it too much."
Let's hear it for Mrs. Mary!