At Appling Healthcare, we have a long and proud history of providing quality care to the countless area residents who have turned to us for compassionate care and healing.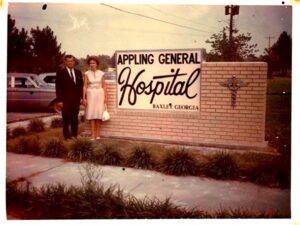 Established as Appling Hospital in 1951, Appling Healthcare in Baxley, Georgia, has evolved into a healthcare system our patients can rely on for big-city care with a small-town heart.
Since opening our doors more than 70 years ago, our focus has not wavered: we treat patients with the highest standards of quality and personalized care.
Throughout the years, we have updated our facilities and adapted our inpatient and outpatient health care services to meet the changing and growing needs of our area.
Today, Appling Healthcare is a non-profit acute care medical facility licensed for a total of 64 beds (34 beds in our hospital and 30 in our behavioral senior care unit). Our organization also includes a 101-bed nursing home, emergency room, general surgery department, primary care and pediatric clinics, inpatient and outpatient therapy, and a full service pharmacy. Appling Healthcare's facilities are equipped with some of the most advanced medical technology available so we are able to diagnose and treat a wide variety of medical conditions.
However, our brick and mortar buildings and modern equipment mean nothing without the dedicated people at the heart of our operations. In every facility and in each department, our highly skilled providers, specialists and support teams go above and beyond to help our patients live their best and healthiest lives.
Staffed with this exceptional team, Appling Healthcare offers a comprehensive range of services, all delivered with nurturing, patient-centered care and an individualized treatment plan.
Whether you're coming in for a routine exam or a more specialized procedure, we look forward to seeing you at Appling Healthcare.
If we don't already know you, we'll still treat you like family.
Our Board Members
Baxley & Appling County Hospital Authority
Our Mission
The Mission of Appling Healthcare is to Connect, Acknowledge, Reassure, & Engage with our patients/residents to provide the best quality of care.
Our Vision
The vision of Appling Healthcare is to serve the needs of the region with the highest standards of healthcare, by owning our mission.
Our Values
Connecting
Acknowledging
Reassuring
Engaging
Appling HealthCare is accredited by DNV (Det Norske Veritas). DNV is the first and only CMS-approved accreditation service that surveys annually and integrates ISO 9001 quality methods with Medicare Conditions of Participation.