About Our Foundation



---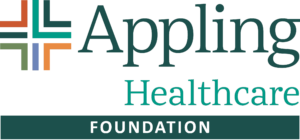 Since 1951, Appling Hospital has been a vital community asset that touches the lives of residents throughout Appling County and beyond.

The Appling Healthcare Foundation is a non-profit organization established to serve as the fundraising arm of Appling Healthcare. Charitable gifts to our Foundation benefit our hospital, nursing home, and all of our service areas.
Our Foundation works collaboratively with Appling Healthcare for services and projects that improve the health and wellness of our patients and community. Foundation funds have been used, for example, to purchase wheelchairs for our Pavilion nursing home. In December of 2022, the Foundation donated wheelchairs to the hospital's Emergency Department, MedSurg and ICU.
Every dollar you donate to the Appling Healthcare Foundation stays in our community and touches the lives of hundreds of patients on a daily basis. With your support, we can help ensure all of Appling Healthcare's facilities and services are ready for you and your loved ones when they need it most.
Appling Healthcare Foundation Fundraisers
"Mom Prom" Ladies' Night Out 2022
4th Annual Breast Cancer Awareness BINGO
"Mom Prom" Ladies' Night Out 2023
For More Information
Contact Anna Logan Yeargan at yeargana@applinghospital.org.
To Donate
To make a donation by check:
Please make checks payable to the Appling Healthcare Foundation
Mail to 163 E. Tollison St., Baxley, GA, 31513
Donate Online: