Appling Healthcare's Senior Care Unit in Baxley is an inpatient geriatric care facility offering mental health treatment for older adults. Your loved one will find compassionate and professional care in a safe, supportive environment.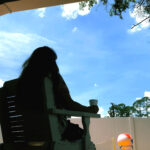 Our healthcare team delivers comprehensive diagnosis and treatment to adults who are experiencing emotional, cognitive or behavioral symptoms. Conditions treated include bipolar disorder, schizophrenia, depression and anxiety, as well as dementia complicated by behavioral conditions.
The Senior Care Unit is a secure facility with 30 beds and an outdoor area. It is a short-term care unit, with an average length of stay of 14 days.
Our services are covered by Medicare, Medicaid and most private insurers. We will bill insurance for services and obtain authorization in advance to avoid unanticipated costs.
If your loved one needs mental health support and individualized treatment, please contact our Senior Care Unit today at 912-367-9841, ext. 1401.
The paintings below are original works by Frieda Jones, Discharge Planner at the Senior Care Unit. Frieda's art is on display throughout the facility and she always lends a hand when the staff plans therapeutic arts & crafts activities.