01/06/2021
"You don't realize you're not functioning at the level that you should be until you feel so much better and remember this is how normal should feel."
For many women, hormone therapy is a topic they easily discuss with moms, sisters or girlfriends. Most men, however, don't think about their hormones or they just don't want to talk about them, especially their testosterone. Adam Riddle of Baxley is not one of those men. He's more than willing to talk about not only his positive experience with hormone pellet therapy but also his path to aging healthier and living happier.
Earlier this year, Adam went to Appling Healthcare provider Matt Hodges, FNP-BC, in Baxley for Bioidentical Hormone Replacement Therapy (BHRT); pellet therapy in particular. Matt is a certified hormone replacement therapy provider for BioTE® Medical.
About pellet therapy
Pellets used for male BHRT are custom-compounded hormones inserted subcutaneously in a patient's upper buttocks. The hormone therapy may begin to alleviate unwanted symptoms within two to four weeks after a pellet insertion. Some of the symptoms of hormonal imbalance in men include low energy, sleeplessness, brain fog, decreased sexual performance, low mood, anxiousness, elevated blood sugar, weight gain, abnormal heart conditions and decreased bone density.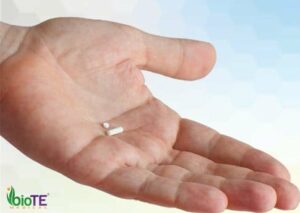 For Adam, it didn't take long for the pellet therapy to help lessen the effects of his imbalanced hormones. "You don't realize you're not functioning at the level that you should be until you feel so much better and remember this is how normal should feel," he said. "It was such a gradual decline over the years that I just thought that not having energy to do anything and wanting to sleep for 10 to 12 hours was normal. BioTE really changes things."
Adam's Journey
When he was just 21 years old, Adam was diagnosed with testicular cancer on the right side. He underwent an orchiectomy (removal of the testicle) followed by three cycles of chemotherapy. His recovery went well and his left testicle ensured his testosterone was still at a normal level. His struggles began in earnest nine years later on Christmas Eve of 2012 when he found a lump in his left testicle. 
"I immediately knew what it was," said Adam, who is now 38 years old. "There's a huge chance that if you're diagnosed with cancer in one testicle you'll have it in the other as well, so the day after Christmas I went to my urologist. This time I wasn't naive about it like when I was 21 and waited. I was immediately scheduled for an ultrasound and, of course, it was cancer." Adam's left testicle was then removed and he underwent chemotherapy and one infusion.
Enduring Injections
After his second orchiectomy, Adam tried Andro gel for about a year at an out-of pocket cost of $800 a month to help produce testosterone. He was then switched to cypionate injections, which he had to administer to himself every two weeks at a cost of $100 a month. 
He looks back now at the highs and lows the injections gave him. "Half the time I felt almost manic and then it was like a valley when I was coming down," he recalled. "People would say I was intense and aggressive, but then a week after that I would be super passive or having a 'woe is me' pity party."
Getting the Pellet Insertion
Adam's first pellet insertion was on March 18. "It wasn't painful," he said. "I felt just the little needle prick to numb it up. Afterward there's some soreness but it's really not much at all. Then after about a week you really can't feel the pellets are there at all."
He then enjoyed a "wonderful summer," with no more peaks and valleys. "The pellets gave me a steady, controlled release of testosterone throughout each day and over the following months," said Adam. 
The pellets used in the BioTE method of BHRT are bioidentical, meaning they are structurally the same as hormones produced in the body. These pellets remain within the body for three to six months, releasing hormones.
Adam went back for his second insertion in September. "I was in and of Matt's office in a half hour," he said. "This time the pellets were inserted on the other side. I asked if I needed more pellets this time or fewer. Matt asked how I felt and I said I feel great. He told me he's basing the amount on how I'm functioning and how I feel."
Getting Back to Feeling Good
"I feel more like I did in my 20s," said Adam. "Now I get seven or eight hours of sleep, which has a lot to do with reducing stress and anxiety. I wake up early and have so much energy. Also, my clarity of thought is amazing. I realize that maybe I haven't had a clear thought in about six or eight years." 
Over the years, Adam had become less sociable and hadn't dated in several years. He's now spending more time with his guy friends and is dating again. He's also very open to talking about his experience with BioTE.
"I really don't think there's anything else better than BioTE," he said. "If it can help someone else, I don't mind talking about it at all. In fact, a couple of guys I know have already said they're going to see Matt about it."
A Provider Who 'Puts His Patients First'
From the beginning, Adam has been impressed by Matt and trusts him fully. "He's the most compassionate and caring guy I've ever known," he said. "Matt always puts his patients first and he always just sits down and asks what's been going on. He really listens. Matt also practices what he preaches as far as health and wellness."
Make an appointment to talk to Appling Healthcare provider Matt Hodges, FNP-BC, to find out how BHRT can help lessen the effects of imbalanced hormones. Call (912)367-4122. Matt's office is located in Baxley at 105 E. Tollison St., Suite C.