In June, we interviewed Jimmy Peek of Jesup for a patient testimonial about the Appling Nursing & Rehabilitation Pavilion. He was staying there while undergoing inpatient physical therapy following surgery on his lower back.
 Mr. Jimmy was a joy to talk with and very enthusiastic about the Pavilion and his 20-day stay. He was released on June 29th and plans were underway for his transitional care. Sadly, Mr. Jimmy unexpectedly suffered a pulmonary embolism and passed away on July 10, 2022. 
A true Southern gentleman who always had a positive outlook and kind words for everyone, his passing was felt deeply by the many staff members who got to know him well. Mr. Jimmy made anyone he spoke with, even someone interviewing him for a testimonial, feel like they had known him forever. 
Excellent care (and 'the best food')
 Mr. Jimmy had nothing but high praise for the Pavilion and everyone who worked at the facility. He especially wanted everyone to know that his feelings were completely objective. He wanted to stress this point because his daughter, Andrea Graham, is the CEO of Appling Healthcare. Mr. Jimmy said that, despite her position, he was treated just like everyone else at the Pavilion. He didn't have a private room and said he received the same level of care as all the other patients and residents. 
 "People have different ideas about a nursing home," he said. "I know someone who refused to go to a nursing home. A lot of times people are told they need rehab or to stay in a place like this and the first thing they think is 'I'm not going to a nursing home'. But really and truly, a nursing home like this benefits you because you get in here and get to know the people. They take time for you and it's just amazing what they do."
 In addition to praising the staff, Mr. Jimmy said he was impressed by the cleanliness of the facility. He also particularly enjoyed the meals. "They have the best food," he said. "I eat everything, especially at breakfast. Then, after I eat, I take a nap, and then they come get me to do my exercises."
Mr. Jimmy also looked forward to snack time at the Pavilion. "I had a Shasta drink the other night and that really hit the spot," he said. "It was cold as ice. For my last night here, I'm going to ask if I can have a Shasta and also an ice cream cup to put together." (Mr. Jimmy did get to enjoy his ice cream float to celebrate his discharge.) 
 "I miss my dad terribly daily, but have such peace knowing that he received the same love and care at the Pavilion as he always did at home in what we didn't know were his final days," said Andrea.
"All of our residents really are treated like family," she continued. "Every one of our staff goes above and beyond to make sure our residents get the very best care possible. Seeing our mission, to connect, acknowledge, reassure, and engage with our patients and residents to provide the best quality of care, firsthand through the care of my dad was truly an amazing experience. I am extremely honored to be a part of this team."
'A Fruitful Life'
Mr. Jimmy served honorably in the U.S. Air Force then went on to work at the Rayonier mill in Jesup for 33 years. When he wasn't working at the mill, Mr. Jimmy served as a Deacon at Jesup First Baptist Church, as an umpire for the recreation department and as an official for the Georgia High School Association.
 When talking with Mr. Jimmy, his thoughts and the conversation would often turn to remembering his late wife, Frances, who passed away in 2020. "I know I talk about her a lot," he said. "But I'll never quit talking about her. I love her so much."
 Mr. Jimmy spoke lovingly about all of his family, including children Danny, Shawn, Candice, and Andrea, along with his many grandchildren. "I've had a good life, a fruitful life," he said. "I'm so lucky to have what I have, and a family I can depend on."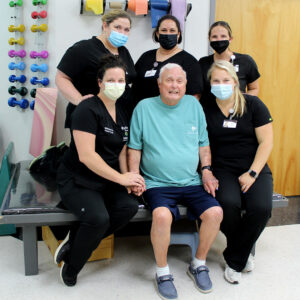 The day before Mr. Jimmy was discharged, Rehabilitation Director Lainey King gathered the therapy team for a group photo with him. "I mean it with all my heart," he told all of his new friends in between photos. "I love all y'all."
 Lainey responded, "You're pretty easy to love."