Dear Appling Healthcare team,
I am moved by the appreciation I see so many of you practice daily. Whether it's a genuine "thank you" to a co-worker who helps out or a thoughtful recognition of a teammate's contributions to the team, your actions help us establish a culture where our values of connecting, acknowledging, reassuring, and engaging thrive.
As Hospital Week comes to a close, I want to take a moment to let you all know why I'm so grateful for this team at Appling Healthcare. First, I am thankful to work alongside team members who embrace and embody our mission to Connect, Acknowledge, Reassure, & Engage with our patients/residents to provide the best quality of care. With mission-driven and dedicated individuals like you all, we can achieve exceptional overall improvements in our community's health.
I'm thankful for the open and transparent conversations around the continual changes in healthcare and your commitment to safety, quality, and patient-centered care. I'm surrounded by a team who wants to make a difference. I see you strive to do more tomorrow than we did today. This is such a distinctive characteristic of Appling Healthcare's culture, and it's a credit to you, our team.
I appreciate the tremendous partnership we have with the community: Our County representatives, our City representatives, our School System, and many others who work with us. They are great partners whose support is essential to the sustainability of our organization.
I'm amazed every day by the teamwork and compassion I see. Our days are filled with little moments with tremendous impact. These moments improve the patient experience but, more importantly, foster connection and reflect our authentic culture.
I see excellence every day in our resilient, talented people working diligently to provide the care our patients need regardless of the time of day. When a family faces health concerns, tremendous care and service are ready for them at Appling Healthcare.
Finally, I'm grateful for your leadership. Regardless of title – there are leaders with servant's hearts in every corner of our organization. Thank you for stepping up to make life better for our patients and each other.
Together we are stronger.

Together we are safer.

Together we make a difference in the lives of our community.

Together we will fulfill our Mission.
Thank you for all you have done and continue to do as champions for our patients as we work together to advance healthcare in Appling County.
Sincerely,
Andrea P. Graham, PharmD, MHA, FACHE
Chief Executive Officer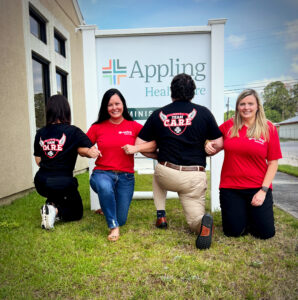 Pictured left to right: Shannah Martin, Chief Nursing Officer; Andrea Graham, Chief Executive Officer; Tony O'Steen, Chief Financial Officer; Robin Crosby, Chief Operating Officer.