03/30/2023
Appling Healthcare recently named Shannah Martin, RN, MSN, as Chief Nursing Officer. In this role, she will provide leadership and oversight to the nurses and clinical staff.  Shannah has more than 15 years of experience in the healthcare industry as a nurse leader and clinical consultant.
As CNO, Shannah will focus on several key areas to include: identifying strategies for improving the quality of patient care and patient outcomes; improving operational efficiency within the organization; and serving as a voice for clinical care nurses and empowering them to reach new heights of clinical excellence.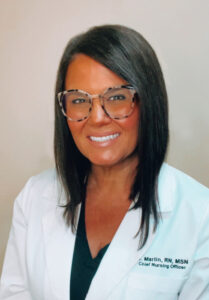 "I could not be more pleased that Shannah accepted this key position as Chief Nursing Officer," said Andrea Graham, Appling Healthcare CEO. "Shannah brings a wealth of professional experience to our leadership team. She understands the ongoing challenges facing our current and future nurses and is passionate about exceptional patient care."
Shannah has a Master of Science in Nursing Administration & Leadership from Walden University and a Bachelor of Science in Nursing from South Georgia College.
"I look forward to building on the legacy of those who came before me and help lead us into an exciting new future," said Shannah. "I'm excited about the ongoing growth and development of Appling Healthcare's nursing team, as well as multidisciplinary collaboration to reach the goal of increasing access to high-quality healthcare for our patients. We have an awesome team at Appling and I'm thankful to be a part of it."
In her personal time, Shannah enjoys spending time with her family, taking photos, gardening, and shopping. She and her husband, Nicholas, have five children: two sons, ages 18 and 26, and three daughters, ages 16, 20 and 22.