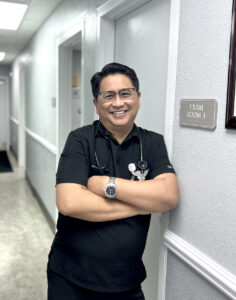 10/30/2023
Orlando V. Fernando, MD, has earned the designation of Certified Medical Director  (CMD) by the American Board of Post-Acute and Long-Term Care Medicine (ABPLM). Best known as "Dr. Orly," he is an internal medicine and primary care provider for Appling Healthcare as well as Certified Medical Director for the Appling Rehabilitation & Nursing Pavilion.
Dr. Orly is one of only 2,400 CMDs in the entire United States. To become a CMD, physicians must be board certified before they can even apply (Dr. Orly is board certified in internal medicine). The rigorous training and credentialing program focuses on the clinical and management knowledge specific to long-term care and the unique needs of older adults.
"We are very proud of Dr. Orly and his commitment to ensuring our patients and nursing home residents receive the highest quality care," said Andrea Graham, CEO of Appling Healthcare. "Investing in Dr. Orly as a Certified Medical Director is the right step toward creating a positive, supportive and safe environment that promotes healing and wellness. The end result will be improved outcomes for our patients, residents and their families."
According to the ABPLM, in order to obtain the CMD distinction, providers must have management and clinical experience within post-acute and long-term care, meet professional development requirements and show competence in clinical medicine and medical management specific to post-acute and long-term care.
Dr. Orly has been with Appling Healthcare since 1998, and all of those years he has worked directly with Appling County's older population to include: the Appling Nursing Home, Appling Convalescent Center, Behavioral Health Unit (now Senior Care Unit), and now the Pavilion Nursing Home. Additionally, he is the Medical Director for Comfort Care Hospice.
According to Dr. Orly, the CMD credentialing program was very in-depth and lasted more than 18 months. "It consisted of almost nightly online lectures and conferences," he said. "I was also able to meet live online with other medical directors who are my peers and also in the program to discuss various cases and how to approach them. I also traveled to workshops in Texas to learn from the experts on more intensive topics such as case management with other medical directors, some of whom were already certified."
Now that he's completed the program and is officially a CMD, Dr. Orly knows he can provide the expert leadership and guidance needed, especially to clinical staff at Appling Healthcare's Pavilion nursing home.
"Now I feel much more confident that what we're doing is right as we approach cases in a more scientific, proven way," he said. "I can reach out to references and contacts I've made through this credentialing process to discuss a case or ask advice. I also have the resources available through the Society for Post-Acute and Long-Term Care Medicine that can help me as well as nursing staff in problem solving and managing cases."
Dr. Orly also pointed out that the nursing staff are still the primary healthcare providers at the Pavilion. "Based on the guidelines, my main role is to supervise, coordinate care, make sure all policies are followed, and that the facility is compliant with state and federal laws," he said.
Dr. Orly has also served as a Medical Review Officer for more than 15 years, managing workplace health for companies such as Plant Hatch, where he also serves on their medical board.
He is married to Nerissa and they are the proud parents of two beautiful daughters, Alyssa and Andrea.
Dr. Orly's Primary Care Practice is located at 105 E. Tollison St., Suite B, in Baxley. He sees patients ages 13 and older and is accepting new patients. To make an appointment, call (912)367-0102.
Congratulations to Dr. Orly on this outstanding achievement and his commitment to quality care!