If you are experiencing COVID-19 symptoms such as fever, cough, and/or shortness of breath and feel you need emergency attention, please call our Emergency Room (912) 367-9841, ext. 1456, prior to arrival for proper instructions and to minimize exposure.
At Appling Healthcare, our team is working tirelessly every day to ensure the health and well-being of our community.
We are closely monitoring the spread of COVID-19 (2019 Novel Coronavirus) in partnership with local and state health agencies and the Centers for Disease Control to ensure we have the most up-to-date information about this rapidly evolving situation. We have a working task force that has long established systems in place to monitor, address and train for all types of emergencies, including infectious diseases.
If you feel sick or are experiencing any of the following symptoms: fever, cough, or shortness of breath, call your primary care physician or the State of Georgia COVID-19 Hotline at (844)442-2681. However, if you are experiencing an emergency medical condition of any kind, you should still go to the emergency room as soon as possible or call 911.
To help you protect yourself and your loved ones, we've gathered the most important information and guidance on COVID-19. Check back for the latest information as we continue to update this page. Your cooperation with these new, temporary changes is very much appreciated.

---
Appling Healthcare has a dedicated phone line for coronavirus updates. Please share, especially with individuals who have limited or no access to a computer, the internet, or social media. This phone line is updated on an ongoing basis as new information becomes available.
Dedicated Covid-19 Update Hotline | (912) 705-7707
---
Frequently Asked Questions about COVID-19
What is it?
Coronavirus disease 2019 (COVID-19) is a respiratory illness that can spread from person to person. The virus that causes COVID-19 is a novel coronavirus that was first identified during an investigation into an outbreak in Wuhan, China.
(Source: CDC.gov)
What are the symptoms?


Symptoms of COVID-19 include fever, cough, and shortness of breath. Symptoms may appear 2-14 days after exposure.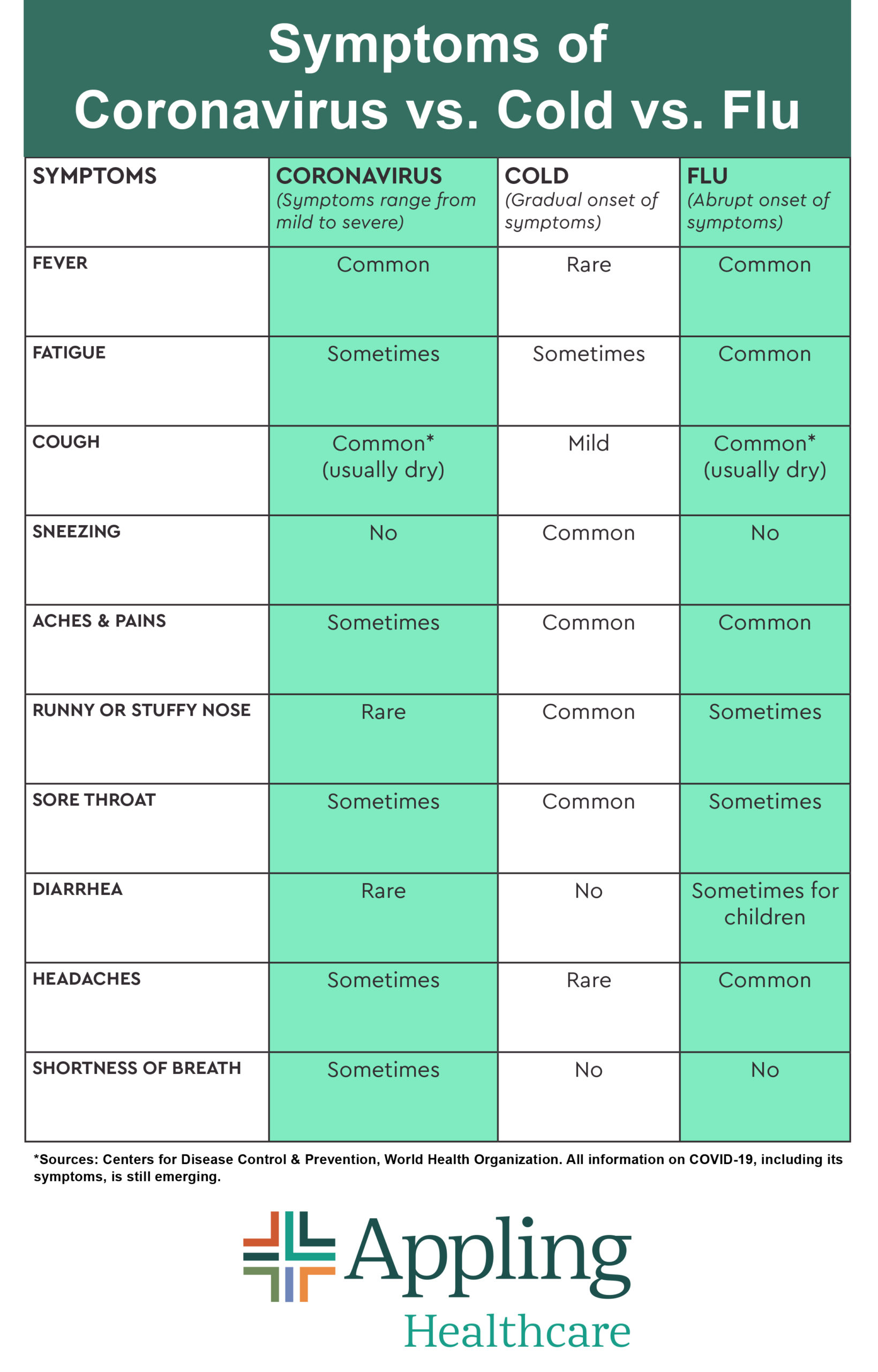 How is it spread?
COVID-19 is spread mainly from person to person.
Between people who are in close contact with one another (within 6 feet)
Through respiratory droplets produced when an infected person coughs or sneezes.
The droplets can land in the mouths, noses, or eyes of people who are nearby or possibly inhaled into the lungs.
It is also possible that a person can get COVID-19 by touching a surface or object that has the virus on it and then touching their own mouth, nose, or eyes, but this is not thought to be the main way the virus spreads.
How many cases are there currently?
The number is ever-evolving. You can find daily updates for Georgia here.
Appling Healthcare Updates